Mother's Day Gift Guide | Japan Small Business
Discover beautiful gifts and ideas for mom this year from our select Mother's Day Gift Guide featuring small foreign run businesses based in Japan. Take the pain out of the process and make it easy by finding something unique, heartfelt and full of meaning for that wonderful person you call mother.
---
Alice
Alice Hizou is focused on blending tradition with fantasy to create unique stunning wearable art for all.
@alicehizou
alicehizou.com
---
Nancy Matsuzawa
Special for Mother's day: Matching earring and bracelet set made from recycled copper electrical wire and embellished with colorful stone beads.
 pinecreektreasures.com
 @pinecreektreasures
 ships internationally
---
PATRICIA NOEL
A fabulous duo of handmade cushion covers entirely designed with vintage Japanese fabrics from obi sashes! They will magically brighten up your interior in a unique and elegant way!
 tabitabiya.com
 shoptabitabiya
 @tabitabi.ya
 ships internationally
OFF ON A WHIM JEWELRY
---
 Erinn LaMattery
Gift mom a special one of a kind birthstone pendant necklace made just for her out of silver and birthstones representing all her beloved children and grandchildren.
Choose either a HEART or an ETERNAL RING necklace and let her know how much she is loved.
 offonawhim.com
 offonawhimjewelry
 @offonawhim
 ships internationally
---
Jezabel Ono
I would like to introduce my Handmade Crystal jewellery. Crystals and gemstones have healing properties. You can also match your gemstone jewelry gift by booking with me a distance reiki session for your mum [love, general well being etc].
 risingmooncrystals.com
 Rising-Moon-Crystals
 @jezabelcreations
 ships internationally
---
 Neko Neko Post
Stationery subscriptions from Japan. We are a small business but huge cat fans which is reflected in the stationery we curate. We regularly donate a portion of sales to cat shelters in Japan.
 nekonekopost.com
 @nekonekopost
 ships internationally
---
 Gaelle Chatenet
This Mother's Day, give Mom the gift of well-being with a package of coaching sessions to help her reach her goal. Whether it is peace of mind, getting rid of a phobia, gaining confidence or something else altogether, I am here to help.
Get 10%off Initial Consultation with Code: MothersDay10
 sophrologyandcoachingtokyo.com
---
 Nadia Jaskiw
The present Mom really wants! Self care is so important and that starts with skincare! Dermatologist-created with clinically proven results. Available in Japan, USA, Canada and Australia. Shop the website where you reside and use my name JASKIW for 10% off and free shipping by clicking yes to PC Perks (club Kaiin in Japan).
You'll also receive a full size skincare gift with your second purchase!
 njaskiw.myrandf.ca
 nadia.jaskiw
 @nadia_jaskiw
 ships internationally
---
Heidi Emoto
Feeling stuck? Overwhelmed? Like there is something *more*? Life Coach Heidi can help you to sort through your ideas and identify what is truly important to you. Create an action plan to make the most of your time & blessings.
Get 10% off any service with coupon code MomDayGift10
 explorethepossibilties.com
 explorethepossibilitieslc
 @explorethepossibilitieslc
 ships internationally
---
Jelena Uechi
RED PURSE
One of our unique items, from a selection of kimono and obi fabrics creations, a bit bigger than the usual size, in order to capture the design of a drum on the left side.
22.5x16x7cm
Made from three different beautiful silk kimono fabrics. Perfect for make up, bank books and various trinkets.
**Special offer-free handmade washi paper Mother's day greeting card, with #Mother2022 on your order
 KimonoKomonoDesigns.com
 @kimonokomonodesigns
---
Vanessa Rodríguez Bello
Handmade organic pigment palettes from different areas in Japan. rop and stick shaped, each collection has 6/12 tones with 3-5 grams of pure mineral colours foraged from rocks, mud and stones geologically and individually identified from its original source. They can be turned into watercolours, inks, soft pastels or into oil paintings, creating a sustainable collection with earthy colours. Using only organic binders and tape water and presented in ceramic containers.
Prices: 6 drops 1.500¥
12 drops 2.000¥
6 sticks 2.000 ¥
12 sticks 2.500¥
10 palettes available
For domestic shipping only, costs included in the price.
Delivered in 3-4 days using standard post using recycled materials, no plastic wrapping.
 terrachromatia.com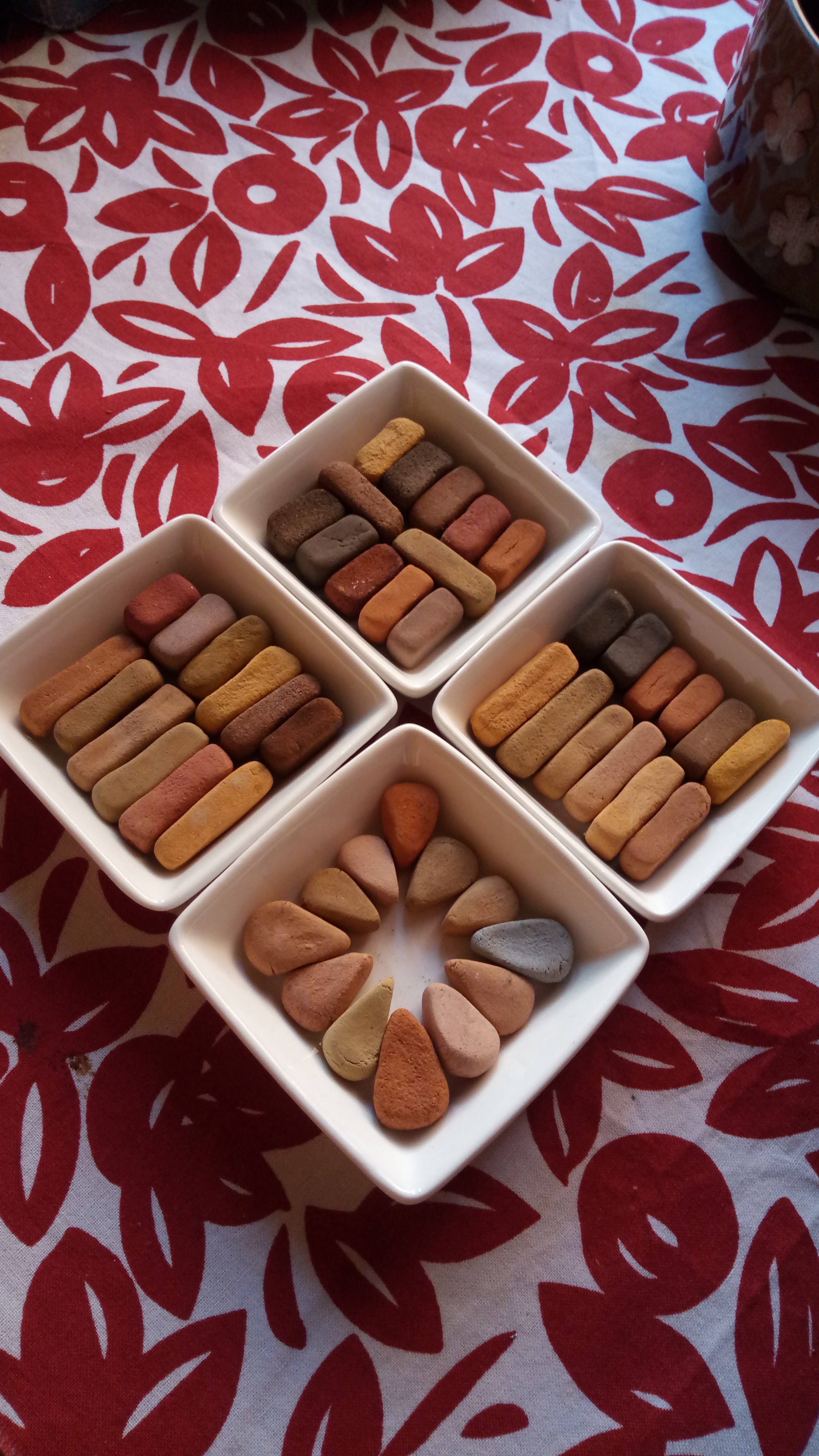 ---
Thank you for stopping buy to check out our small guide and support these small local businesses!